Nieuwsblog
Naar een nieuw atelier!
2022-06-12 (V. van der Wijk)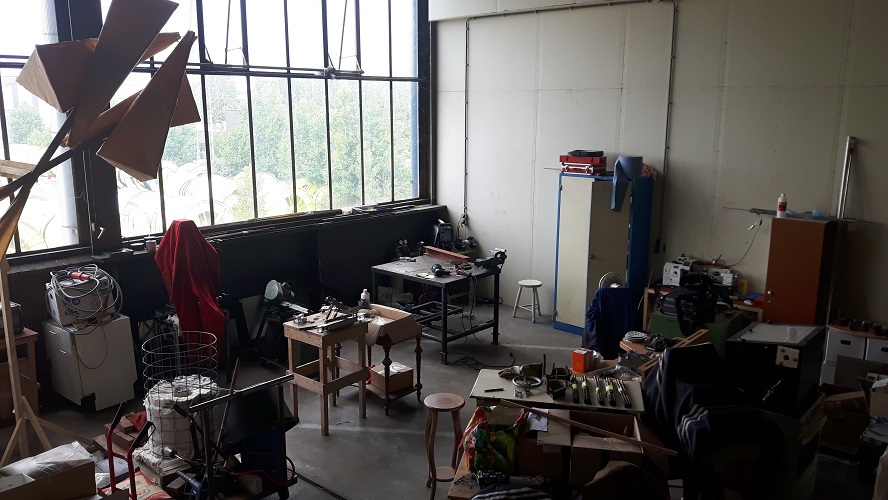 In de afgelopen paar maanden ben ik verhuisd naar mijn nieuwe atelier in de oude kabelfabriek aan de Schieweg 15 in Delft. Het is een wonderschone ruimte: 150 vierkante meters met veel licht uit het noorden en veel hoogte zodat mijn grote scuplturen erin passen. De eerste foto toont de kern van het atelier: de metaalwerkhoek. De tweede foto laat de installatie van het scuptuur Anemone Magnifica zien.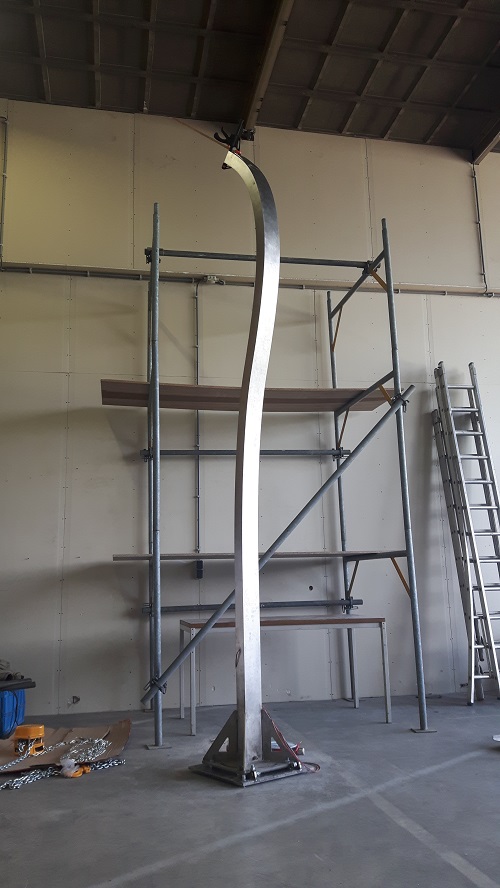 Knuffel-mechaniek
2022-03-19 (V. van der Wijk)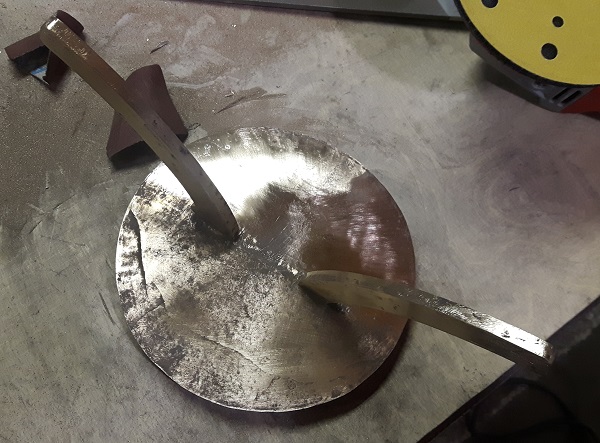 Voor mijn nieuwe sculptuur 'Knuffel' ben ik begonnen met het afwerken van de bronzen delen en met het in elkaar zetten van het stangenmechaniek zoals hieronder te zien. De gaten van de draaipunten zijn precies gemaakt zodat de bewegende stangen er voor zorgen dat de bovenkant aan de rechterkant synchroon meebeweegt met de linker bovenkant waardoor beide delen gelijktijdig naar binnen of naar buiten toe bewegen.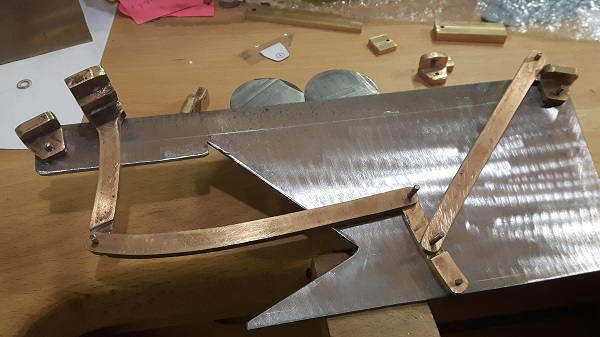 De beweging is te zien in de onderstaande video waarin het rechterdeel van het mechaniek een algemeen vierstangenmechanisme is en het linkerdeel een parallellogrammechaniek. De volgende stap is het plaatsen van de pyramidevormen er bovenop.
'Tussen Hemel en Aarde' af!
2022-02-18 (V. van der Wijk)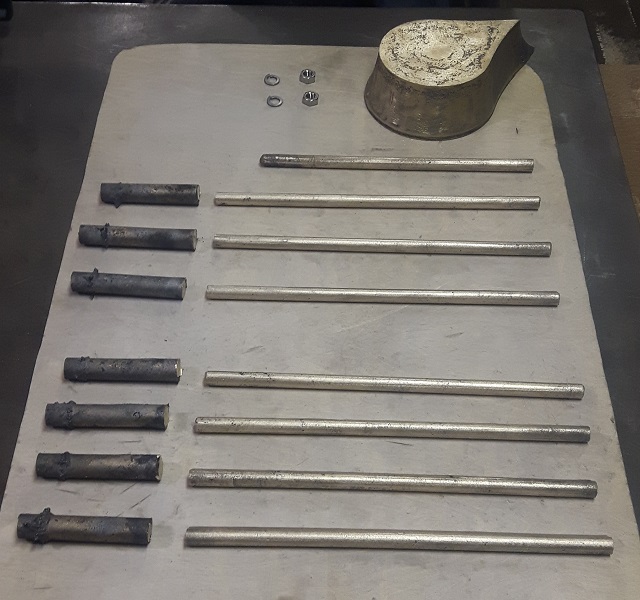 After many hours of experiments and work, the newest version of Between Heaven and Earth has been finished now too. Earlier I wrote about the teardrop profiles I'd casted. I wasn't 100% satisfied and decided to make an improved wooden model. With that model I casted a series of bronze bars with a nicer teardrop profile.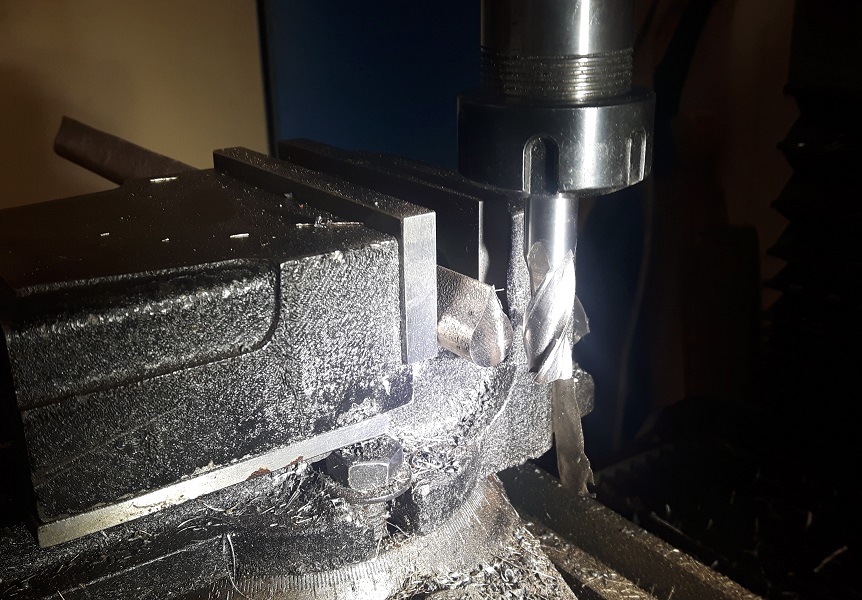 With the milling machine I gave the bars the correct lenght with a straight surface finish.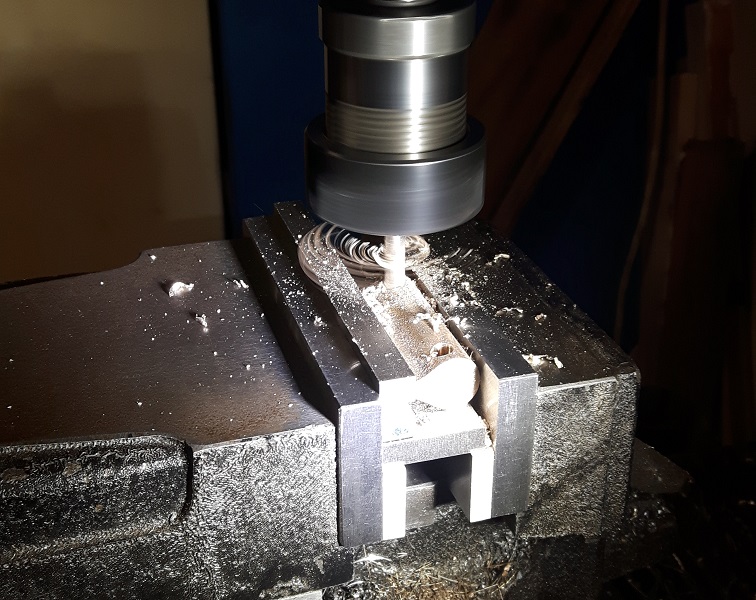 Also for drilling the holes for the rotational joints I used the milling machine such that the measures are accurate and the holes are well aligned.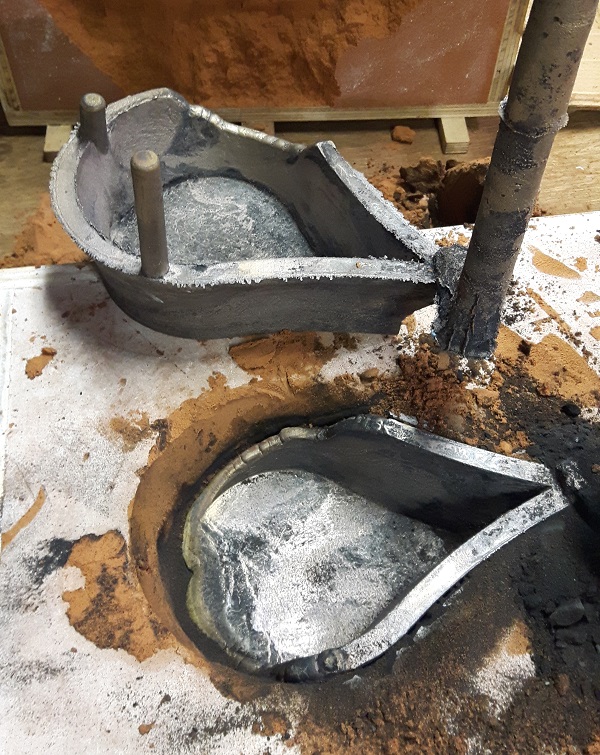 Bronze casting of the base was another challenge. The model, also designed with the same teardrop shape, I had 3-D printed. It took two failures to learn how to cast it well by pooring the 4 kg of liquid bronze more rapidly into the sand mold.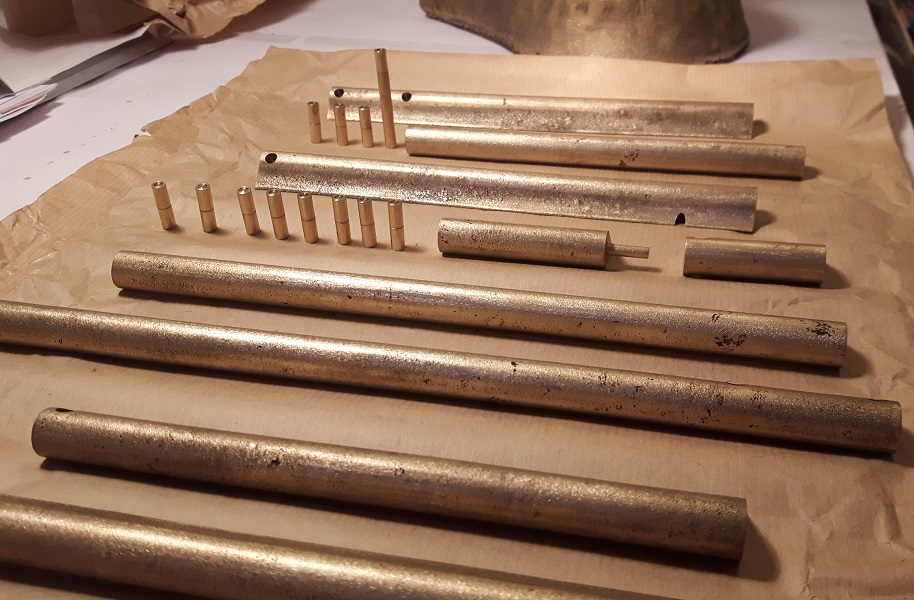 After finishing all the bars and bearings with stainless steel axles, the sculpture was assembled. Below you can see the results with the highest pose of the sculpture of 100 cm and lowest pose of 50 cm.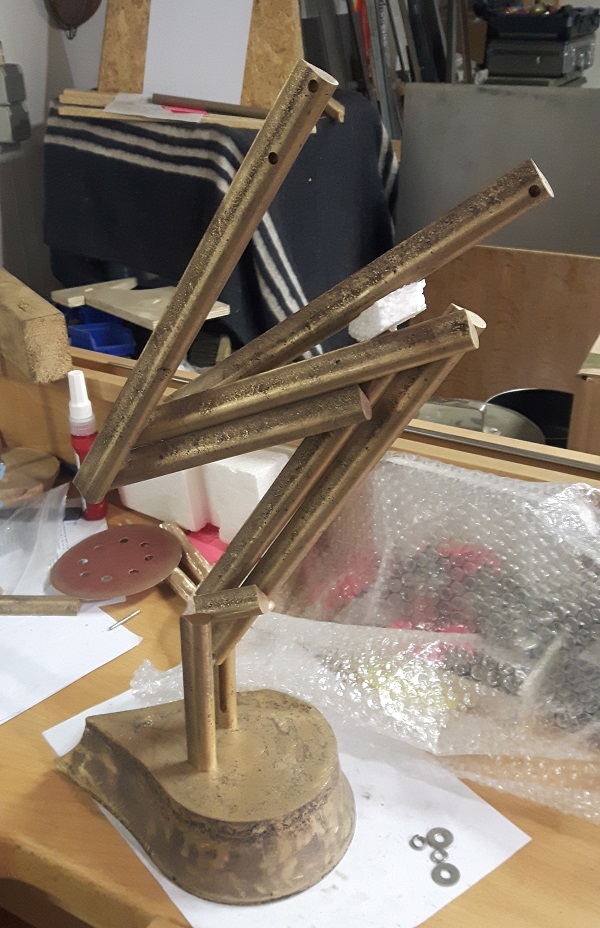 The sculpture shows a person huddled in despair. You, as a friend, are trying to help by lifting the person up where the person begs heaven for help. However when you leave, the person collapses again in utter despair. The next step is to make a small series of this sculpture for sale.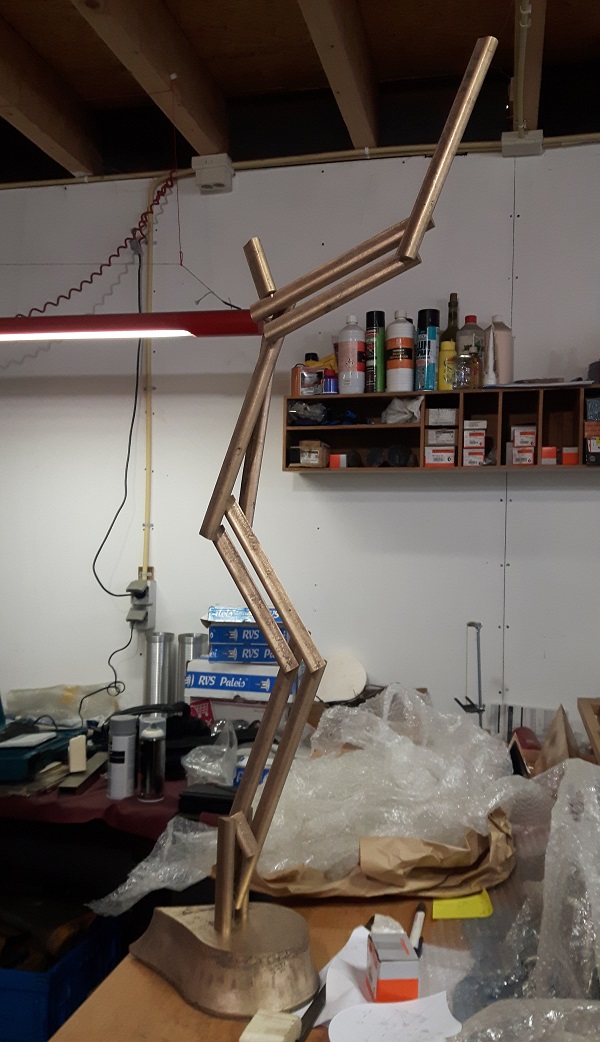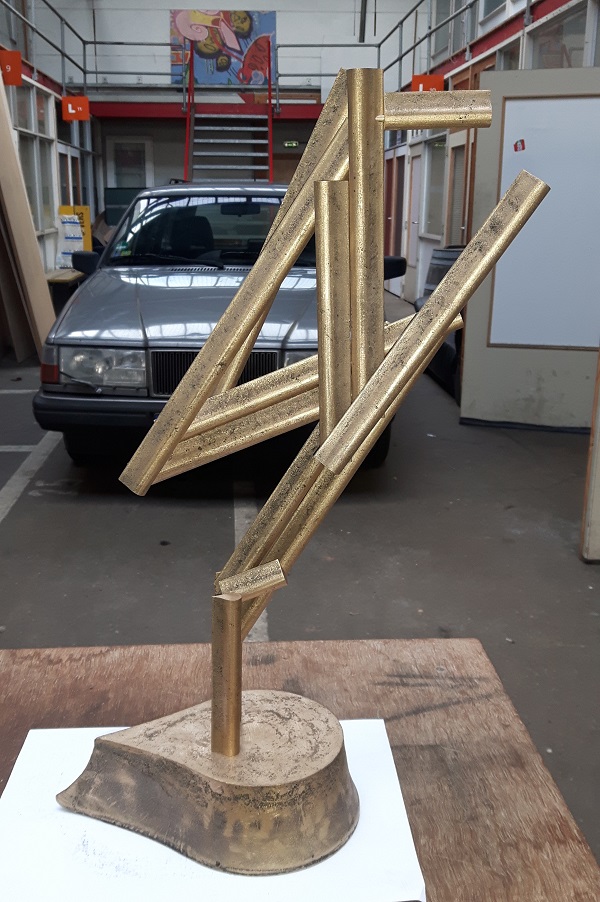 'Pluimage in Brons' af!
2022-01-09 (V. van der Wijk)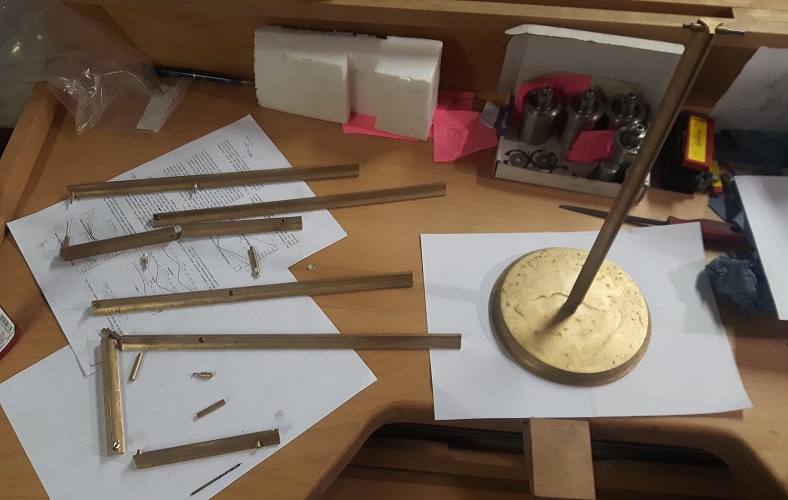 Just before Christmas I finished the Plumage in Bronze balanced kinetic sculpture. Earlier I already made one of the sides, see this blog, and now also the other side has been assembled after weighting the bronze casted profiles carefully, determining their precise location of the center of mass (i.e. center of gravity) and placing the bearings at the precise points such that the obtained mechanism is balanced/stable in each pose to which it is moved. Soon there will be more pictures on the website.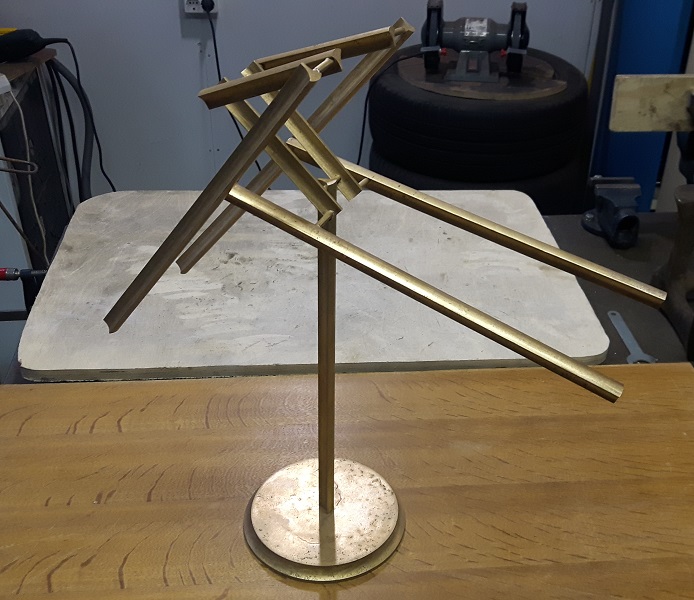 Meer blog items >>